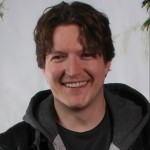 Mark grew up in the great plains of the Midwest where he developed his love for music, science fiction, fantasy, theater, cinema, games and basically any form of storytelling. He chased his dream of music for most of his early adult life and released an album with his band Vizuddha in 2008. Though they only sold a few hundred copies, it was downloaded from various sources over two million times. Mark has performed theatrically and toured, winning a handful of awards for his singing talents at a young age.
It is only natural that, having been raised in farmland, he also has a love for the growing of food and, of course, cooking and joyously consuming it as well. During his time as a professional musician he was also blessed with the opportunity to work with and learn from many talented chefs in the Boulder and Denver areas. In 2007 he acquired a love for craft-brews when he assisted with the opening of the Vine Street Pub in Denver.
Mark has written since before he was a teenager and continues to do so daily. He is often inspired by the digital-games medium and hopes to one day own a game design company himself. He recently acquired dual degrees in Computer Programming and Network Technology to help further that aspiration.
His first novel, Bloodletting: Part 1, co-authored with Peter J. Wacks, has sold over 15,000 copies since it was released March 29th, 2014.